Stewart Indian School in the News!
Check this page for the latest news about Stewart Indian School
By Brett McGinness, Reno Gazette Journal- December 26, 2021
His rural Nevada high school has fewer than 400 students. His running coach lives more than an hour's drive away in south Reno. Despite the odds, Stevens won the 2A title in the 5-kilometer course with a time of 16 minutes, 28 seconds — the best time in the state at any level..…Click Here to read more.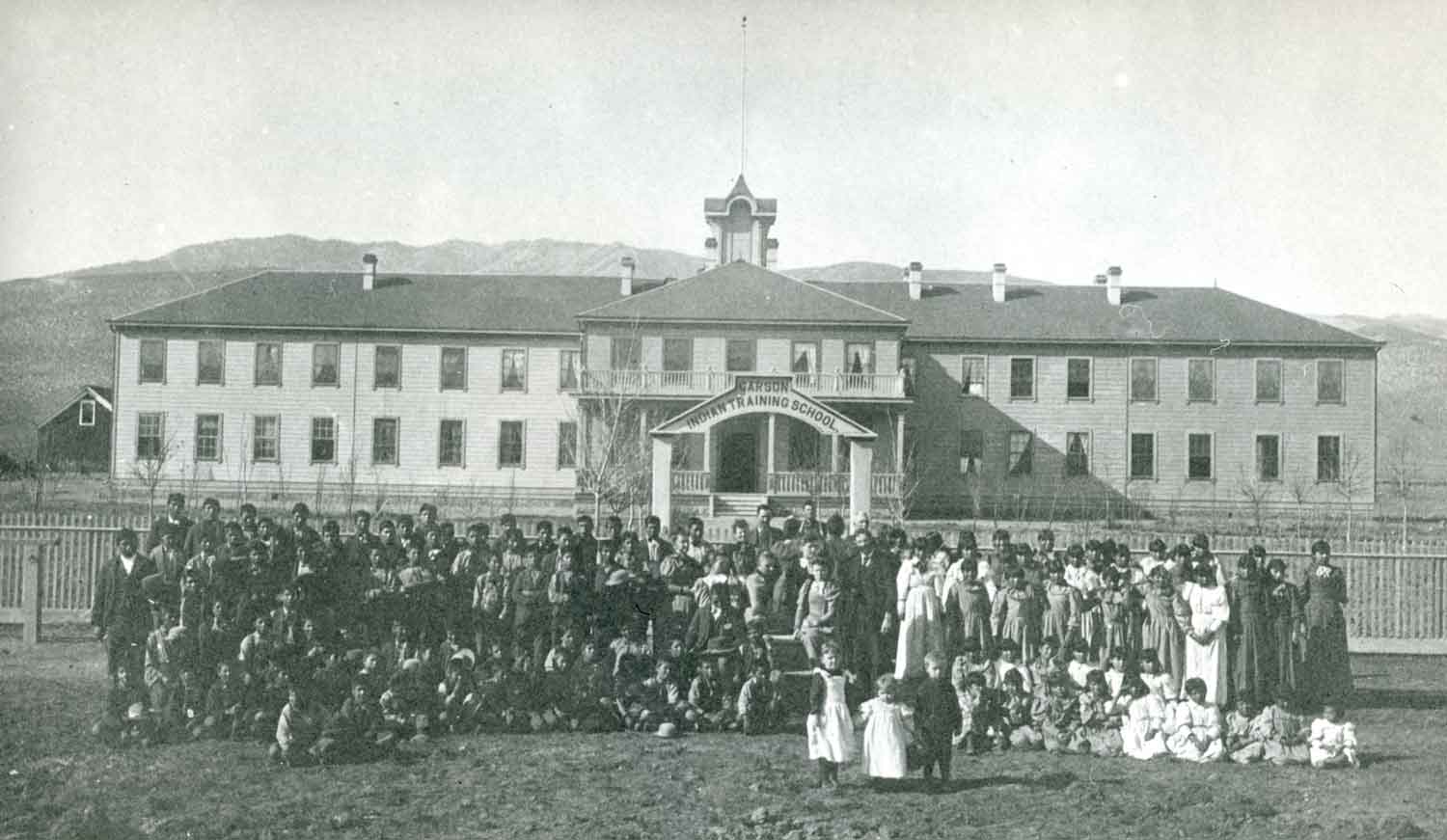 Preserve Nevada: Indigenous Languages, Cultural Landmarks Among State's 'Most Endangered'
Historic preservation group calls for action to sustain survival of 11 Silver State treasures.

By Keyonna Summers, UNLV News Center – October 15, 2021
Stewart Indian School – Opened in 1890, it was one of the many boarding schools designed to both educate and force a different culture upon Native Americans. The school closed in 1980 and is now a museum and historic site that contains a cultural center.…Click Here to read more.
Ku Stevens leads the way during the Remembrance Run
By Jason Bean, Reno Gazette Journal – August 19, 2021
Go along on the journey that Ku Stevens and others made from the Stewart Indian School to the Yerington Paiute Reservation during the Remembrance Run

UNLV Art Presents 'AH'-WAH-NEE' Exhibition and Symposium
 August 16, 2021 This fall the department of art and the Donna Beam Gallery in collaboration with the College of Fine Arts present AH'-WAH-NEE (Paiute for 'balance') a momentous exhibition and symposium celebrating the beauty of Indigeneity through the art of local and regional Native American women artists holding space on the campus of UNLV, the traditional homelands of the Nuwuvi, Southern Paiute People. . . . Click here for the full story
Nevada teen leads 50-mile Remembrance Run to honor great-grandfather
By Ric Anderson, Las Vegas Sun – August 18, 2021
As dawn broke Saturday in Nevada's capital, Yerington teenager Ku Stevens stood on grounds where the U.S. government once confined his great-grandfather and other Native American children in an attempt to force their assimilation into white culture. . . Click here for the full story
Retracing his ancestor's boarding school escape
By Kaitlin Onawa Boysel , Indian Country Today – August 17, 2021
When news broke of the mass graves found in Canada at residential schools earlier this year, one young cross country runner in Nevada thought of his own family. . . Click here for the full story
By Ric Anderson, Las Vegas Sun – August 8, 2021
Ku Stevens runs on a road not far from the Stewart Indian School near Carson City in this photo taken on June 18, 2021. The Yerington High School cross-country runner plans to retrace later this summer route his great-grandfather took when he escaped from the school to his home in Yerington. . . . Click here for the full story
By Marcella Corona, Reno Gazette Journal – July 5, 2021
The Stewart Indian School in Carson City may come under federal review following U.S. Interior Secretary Deb Haaland's announcement that the federal government will investigate its past oversight of Native American boarding schools.. . . . . Click here for the full story
By The Associated Press – July 5, 2021
RENO (AP) — The Nevada Indian Commission has been collecting information on the history of the former Stewart Indian School in Carson City after U.S. Interior Secretary Deb Haaland announced she's launching an inquiry into the the federal government's boarding school program for Native American children.. . . . . Click here for the full story
AP – July 4,2021
He was the lone runner on the Yerington cross country team this spring. In track, he posted the second fastest time in the state in the 1,600-meter (4:23.16) and in the 3,200-meter (9:47.26). . . . Click here for the full story
by Jim Krajewski, Reno Gazette Journal – June 14,2021
Ku Stevens will not let history be forgotten.
Stevens' determination is already known. He was the lone runner on the Yerington cross country team this spring. In track, he posted the second fastest time in the state in the 1600-meter (4:23.16) and in the 3200 (9:47.26).
Later this summer, Stevens, who will be a senior at Yerington, will retrace his great-grandfather's journey in escaping from the Stewart Indian School outside of Carson City. 
He is calling it "The Remembrance Run." . . . . Click here for the full story
By Alex Schechter, New York Times – May 14, 2021
From Virginia to California, these eight parks, heritage centers and open-air exhibits offer fresh opportunities to confront the history and the present-day realities of Native Americans.. . . . . Click here for the full story
By Jeff Munson, CarsonNow.org, – April 26, 2021
The Stewart Indian School Cultural Center & Museum announces a new exhibit in the Great Basin Native Artists Gallery. Contemporary Indigenous artists from Nevada's Northern and Southern Paiute, Western Shoshone, and Washoe tribal nations exhibit an exceptional collection of beadworks, from beaded goblets to cradleboards. This exhibition will be on display through Oct. 23, 2021.. . . . . Click here for the full story
By Linda Eben Jones, Chris Ann Gibbons, Bobbi Rahder, and Samantha Williams  – April 8, 2021
In January 2020, the Stewart Indian School Cultural Center & Museum opened in Carson City, Nevada. Since the boarding school's closure in 1980, former students and their families had urged the state of Nevada to commemorate alumni experiences as a means of recognizing their trauma and need for healing. . . . . Click here for the full story